The most frustrating download of all time, for one of the best media convertors I know
When you need to convert video or audio from one format to another, for free, there is no better than SUPER by eRightSoft. It does what you need, pretty well and pretty effectively and best of all, it is FREE. The Simplified Universal Player Encoder & Renderer may only be a nice GUI frontend to a load of command-line tools, but hey – they work.
[caption id="" align="alignleft" width="641″ caption="If you ever find it, this is what it looks like."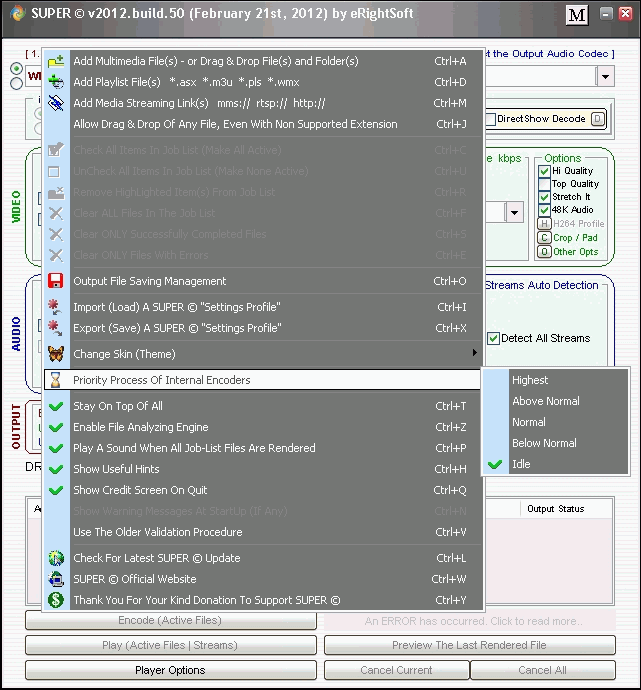 [/caption
Unfortunately, it is hidden behind of the most incomprehensible set of pages I have ever seen, filled with all kinds of technical stuff that – get this – I. Don't. Need. To. Know.  – I know the software works, just give me a big "download" button rather than page after page of looping and unobvious rubbish. I recommended this software to a friend and he didn't use it because he couldn't spot the link to download it! In fact, I challenge you: go to http://www.erightsoft.com/SUPER.html and how easily you can find it!
What a waste. If Mr eRightSoft reads this ever, please, please, PLEASE make it easier to get hold of, and you will have many many more users.
In fact to make it easier, here is the link direct to the program on his site: http://erightsoft.podzone.net/GetFile.php?SUPERsetup.exe
and I've even made you a big download button to make it easier. It's a good program. Use it.
---